Coach Transfer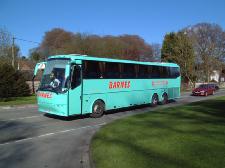 Booking Transport Services to and from Summer School
The coach from London Victoria Coach Station will leave at 2.30pm on each Sunday afternoon. Please check the information board for the departure bay. It will arrive at the Summer School at approximately 5.00pm.
Your return journey will depart from the Summer School at 9.30am and arrive at the drop off point of Ecclestone Place (arrivals area) at London Victoria Coach Station between 11.20-11.45am.
There will also be a pickup from outside Swindon Train Station on each Sunday at 5.00pm, returning on Saturday morning (departure time of 9.00am). This will either be a minibus or a Barnes coach, depending on numbers. Due to parking restrictions a member of Summer School staff will be situated outside the entrance to the station to guide customers to the minibus/coach.
It is hoped that both coaches will be ready for boarding at least 15 minutes before departure but they will NOT be able to wait for late arrivals.
A representative from the Summer School will be on board to help new arrivals.
Our coaches will be provided by Barnes Coaches, clearly marked Marlborough College Summer School.
Customers wishing to use these services should book in advance on the Summer School booking form in the brochure or by completing the online booking process. From Victoria, the cost will be £25.00 for a single ticket and £50.00 for a return ticket. From Swindon, the cost will be £8 for a single ticket and £16 for a return ticket.
We advise that you leave plenty of time if you are catching connecting flights or trains.
Alternatively if you would prefer to take a taxi, we recommend Aldbourne Taxis (http://www.aldbournetaxis.com/): +44 (0)7977 059991 or email at . Payment for this service should be made directly to Aldbourne Taxis.